Current News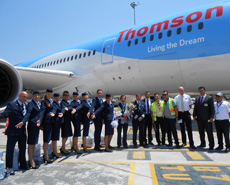 Dalaman welcomes first visit of revolutionary Thomson 787 Dreamliner.
A Thomson Airways 787 Dreamliner, the ultra-modern aircraft which is set to revolutionise air travel, touched down for the very first time at Dalaman Airport today.
The brand new Thomson 787 Dreamliner landed in Dalaman at 13,25 pm, welcomed by airport officials and local plane enthusiasts alike, having flown direct from London.
Thomson Airways is the first UK airline to fly the state-of-the-art aircraft; and in-line with normal airline practice it is currently operating some short and mid-haul routes before commencing long haul services.
The Thomson 787 Dreamliner leaves holidaymakers more relaxed and refreshed than ever before, with comfort and wellbeing features on-board reducing the effects of jet-lag. It can also fly much further distances than similar-sized aircraft and is more environmentally friendly, using 20% less fuel.
John Murphy, Director of Flight Operations at Thomson Airways said: "The introduction of the Thomson 787 Dreamliner is a major milestone in our journey to modernise the holiday experience – so we are pleased to give some of our customers flying on short and mid haul routes this summer the chance to sample the benefits of this innovative aircraft.
The in-flight experience offered by the 787 ensures our customers unique holiday experience starts as soon as they step on-board the aircraft.  The extended flying range of the Dreamliner also unlocks a host of exciting new holiday destinations for Thomson customers."
Mr. Koray Özbay, General Manager of Çelebi Ground Handling Inc., said: "We are delighted to welcome this very special new aircraft to Dalaman.  Thomson Airways is a very important partner, which brings many UK holidaymakers to Dalaman every year and plays a vital role supporting our local tourist industry."
The Thomson 787 Dreamliner carries 291 passengers. Premium Club will seat 47 in a 2-3-2 configuration, each with a 38" pitch, and Economy Club will seat 244 in a 3-3-3 configuration, each with an industry leading 33" or 34" pitch.
Thomson Airways, the airline for Thomson and First Choice, is taking delivery of eight Boeing 787 Dreamliners in total, up to May 2015. Thomson's first long-haul Dreamliner flights will operate from Manchester to Florida and Glasgow to Cancun, on 8 July 2013.
Thomson's second mid-haul Dreamliner flight to Turkey is planned for 27 June 2013 to Antalya said Mr. Özbay and Çelebi Ground Handling Inc. will be glad to serve the aircraft.
<< Back to news list