Current News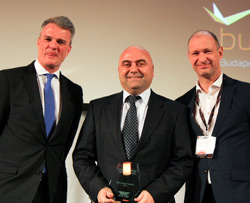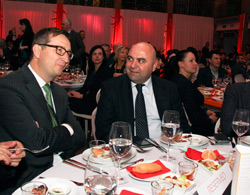 A multitude of awards and gala dinner for Budapest Airport's partners
Budapest, 30 January 2015. Budapest Airport handed over awards to its airline and commercial partners in no less than 20 categories at its traditional annual gala evening, once again held at the elegant Terminal 1 Event Center. In the wake of last year's successes, Hungarian aviation stakeholders and business partners have an optimistic outlook for 2015.
Guests arriving for Budapest Airport's annual award ceremony and gala dinner, held on Thursday evening, for the 8th time, filled the central hall of Terminal 1, which now operates as an exclusive event center. Participants included representatives from all areas of aviation; airline and commercial partners, airport authorities, travel agencies, government officials and aviation journalists. Budapest Airport had a record year in terms of passenger traffic in 2014, which is attributable to the joint efforts of all stakeholders in the industry. The event was the perfect occasion for the airport operator to express its appreciation to partners for the results achieved.
In total, 9.15 million passengers used the terminals of Budapest Airport in 2014, which constitutes significant, 7.5 % growth compared to the previous year. Airlines' average load factor (i.e. the utilization of flights) also rose to a record level of 79 %, which illustrates the increasing interest amongst both business and leisure travelers in Budapest and Hungary. Budapest Airport's aviation experts forecast further growth for 2015, potentially beyond 9.6 million passengers.
"All credits must go to our award-winning partners for the excellent work. I have to note that all stakeholders in Hungarian aviation deserve praise, since the record results of Budapest Airport in 2014 is also a reflection of their efforts and performance," said Jost Lammers, the CEO of Budapest Airport. "We expect another record year in 2015, primarily due to the dynamic growth in tourism. This provides an added incentive for our partners to further develop and expand their services, thus providing a pleasant and unforgettable travel experience for passengers in Budapest. Everything is in place at the airport to take another step forward in terms of passenger traffic, for the benefit of Hungarian tourism and the economy as a whole," he added.
<< Back to news list